Welcome to the STEAM Discovery Center!
The STEAM Discovery Center is a space where students can create, innovate, and discover the science hiding in the world around them. Our student programs are fun, project-based learning experiences that challenge students to think creatively, solve real world problems, and challenge their limitations. The Center also offers programs for STEAM teachers of all disciplines to improve their pedagogical practices.
The STEAM Center is a program of
STEAM Discovery Cluster
Try out an array of workshops across the Center's specialties to find your own STEAM path and passion!
STEAM Exploration
This intensive program gives you the space, tools, and knowledge to nurture your STEAM passion and delve deep into one specialty.
Global Communication for STEAM
Work on your STEAM passion while developing your English language skills: reading, writing, listening, and speaking in a comfortable, safe, STEAM-filled context.
STEAM Teacher Training
Develop your skills in four key STEAM pedagogical areas through an intensive two-week course.
STEAM Teacher Development Workshops
A series of rich and varied STEAM pedagogy workshops delivered over weekends and holidays for busy teachers targeting specific areas of development in STEAM teaching.
The Center is the latest addition to World Learning's growing network of STEAM centers and corners working to develop young minds across the world. Our sister centers in Algeria and Egypt have served over 8,000 youth and teachers and counting.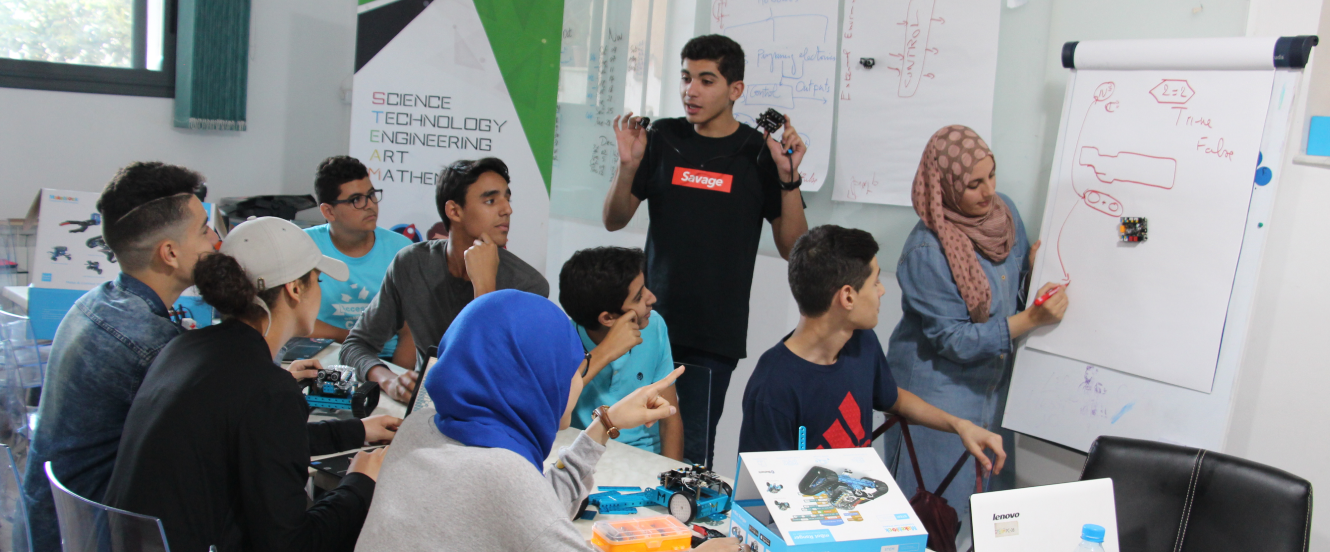 The STEAM Center's sponsor, Boeing, and Discovery Education have partnered up to create FUTURE U. FUTURE U provides educators with the tools they need to inspire their students to use creativity, collaboration, persistence and problem-solving to change the world. Geared towards students in grades 6–12, FUTURE U uses hands-on, experiential learning to ignite excitement and inspire them to become tomorrow's innovators.